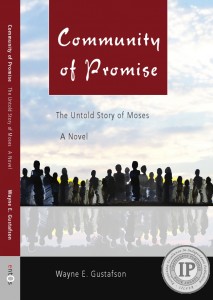 What if Moses didn't actually die on Mt. Nebo?
What if a small band of Israelites, accompanied by Moses, secretly returned to the wilderness looking for a very different Promised Land?
And what if there is much more to the man and the story than we have been told?
Community of Promise is the untold story of Moses in the voice of Eliezer, his mystical second son.
He offers it as a counter-balance to the "official" account, written by Gershom, Moses' concrete-thinking first son and stenographer of mystical experiences.
Community of Promise is fiction that behaves like non-fiction!
While raising social, economic, political, theological/religious, and community issues, the story follows Moses and the fledgling community through their exploration of emerging identity and ultimate destination.
The study guide included at the end makes Community of Promise a welcome resource for book study groups.
Moses' humanity discovered beneath the "mantle of the Prophet" will touch you deeply.
Review Comments
Community of Promise is brilliantly done, and it will be inspiring to many people…  I found the story incredibly believable…  I thoroughly enjoyed [the] novel and believe it belongs on the best-seller list.
~ Merle Jordan, Professor Emeritus of Pastoral Psychology at
Boston Univ. School of Theology
and author of
Reclaiming Your Story: Family History and Spiritual Growth  and
Taking on the Gods: The Task of the Pastoral Counselor.
Community of Promise is an intriguing alternative to the Biblical story of Moses.  It invites the reader to a thought-provoking spiritual venture along with Moses. (And regarding the Study Guide) –  I found myself wanting to have a group discussion on many of the question posed for consideration. In some ways it raised even more questions.
~ Martha Boland, Book Study Group Participant
Community of Promise was a surprising page turner. The story readily lends itself to discussions of pertinent, contemporary, and spiritual topics. The study group was not only an opportunity to explore issues raised in the text but also a lively exercise in building community.
~ Steve Seaberg, Book Study Group Participant